What's
"I Survived the Room"

about?

...ever wonder what it feels like to be kidnapped or committed?
I Survived The Room™ has set the bar for the latest game craze in the Escape Room Industry. What's an Escape Room? You and a group of people (Friends, Family, Co-Workers) are locked into a room, or rooms. Your goal is simple, Survive and Escape the room. How? You must find clues solve puzzles, and use your head to plan your escape!
Teamwork is necessary because you only have 60 Minutes to make your way out! What sets I Survived The Room apart? Unlike other Escape Rooms,  we truly immerse you into a scripted and theatrically driven experience. With our cast of professional actors, lighting, effects, and a scripted show with clues and puzzles that are all part of a storyline, you and your group are sure to have the craziest, wackiest adventure you can pack into an hour!
For a Mind-Bending experience unlike any other,  come escape  
I Survived The Room!™
TEAM BUILDING
All of our games are specifically designed for intense cooperation, and teamwork. Experience a high quality team building exercise throughout all of our games. If you are not a "team player", then this isn't for you!
Fun For All Ages 13+
I Survived The Room is a PG-13 rated attraction!  You do not have to have any prior or special knowledge before hand to solve any of our clues or puzzles. Just have an open mind and use your imagination!
CHALLENGES
I Survived The Room is a complex puzzle that requires you to complete challenges that eventually lead to your escape! These challenges will test your groups Mental, Physical, and Social Skills. Lastly, you only have 60 Minutes to complete all of the challenges and
Survive The Room!
SPECIAL EVENTS
Have a Birthday coming up? Want to plan a Corporate outing? Or you just have a special event your trying to set up? We can help set up any custom reservation that you want to make. Just contact us for more information!
(718) 764-0876
OUR ESCAPE ROOMS
The clock is ticking...are you ready?
Select your room...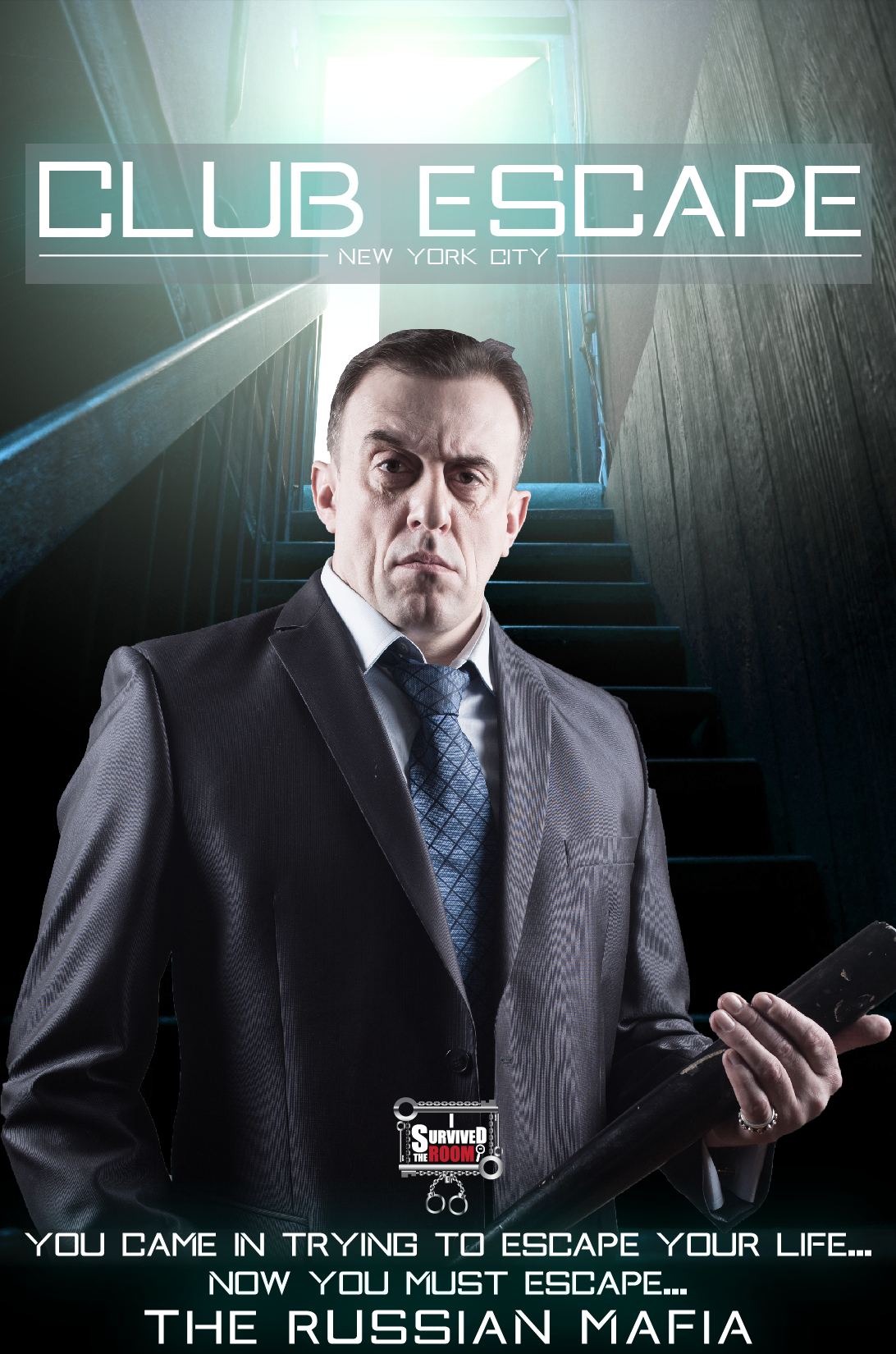 CLUB ESCAPE
When the notorious Russian Bratva crime operation opens Long Island City's newest nightlife hot spot, Club Escape, a new breed of clientele comes to town. Seizing the opportunity, you attempt to infiltrate their ranks and broker a deal that could make you wealthier than in your wildest dreams. However, when the "perfect opportunity" falls apart, you must fend for yourself and scramble to escape before the Boss comes back and your last hour on Earth ticks by. Can you make your getaway in time, or will you be left to swim with the fishes?

View More Rooms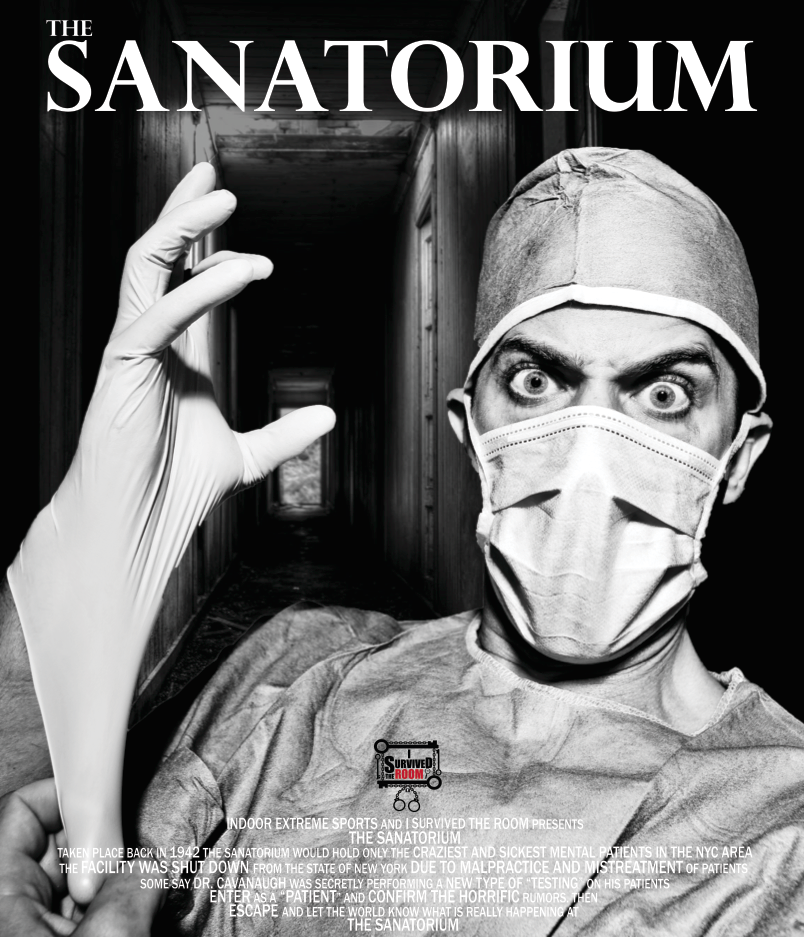 The Sanatorium
"In this hour long adrenaline packed experience, the audience is committed to Toxico Sanatorium where they will be handcuffed, shackled, and locked three rooms deep inside of the asylum. Once inside, the mad man's clock begins to tick, and you have one hour to find the clues, live the story and escape- or risk becoming a patient here for all eternity!"

View More Rooms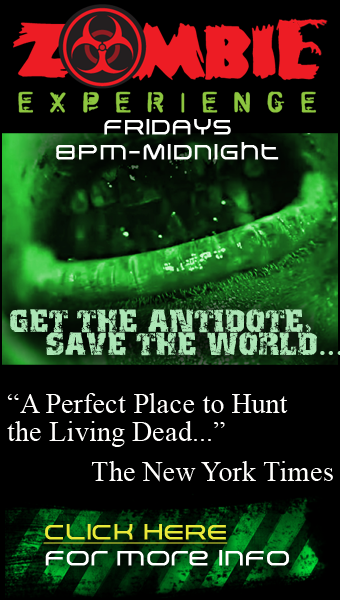 ZOMBIE EXPERIENCE (Fri Nights Only) Action Shooter - 30 Mins
Ever scream at a character in your typical Zombie flix, "No, not that way!", or even better, "RUN STUPID!" Well now you can experience being that character! Battle wave after wave of Zombies as Players are unleashed in the Ayslum with only one objective , get the antidote and MAKE IT OUT ALIVE!!! Find out who your real friends are, will they watch your back or cut and run, leaving you to battle alone thru the Zombie Gauntlet of death. See why Red Bull Mag named our Zombie Experience "The Great Escape" and how the New York Times describes us as "The perfect place to hunt the living dead..." Be ready to experience the most action packed 30 mins $20 bucks can buy!
SOCIAL MEDIA
THE SURVIVORS AND MORE...

INSTA-FEEDS

TWITTER-FEEDS

FACEBOOK-FEEDS